Meeting/Event Partner Program
I would like to introduce myself and my company to you. I am the owner and event producer for VIP Events Management, VIP Casino Events, and Fiesta Sounds. We are a local (Westerville) based event planning company that has been in business for over 13 years planning, managing, and performing many successful meetings and events. Most recently, we have assisted a Nationwide department with creative event design and production to produce successful and very memorable teambuilding experiences!
Check out the following link from a recent Nationwide event: Inflatable Horse Race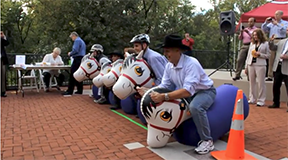 Corporations and Non-profit Organizations
We have worked with many other corporations and non-profit organizations to achieve and exceed their goals and overall meeting experiences. This is due to having services that are very unique in this market and utilizing the best of the best local event talent and management!
We include in every package we custom design:
Creative Meeting/Event Design: We assist with unique ideas and entertainment that will match any theme or goal
Logistic Planning: This identifies most operational projects as they relate to our service package offering, including a floor plan for tables and auctions
Timeline Design: Proactive planning to assist in the best possible event day or meeting experience
Common Service Applications:
Business/Training Meetings:
A/V Sound integration
Audience Response System (ARS) design and implementation for training, testing, and FUN
Custom Designed Game shows: Allows custom text, music, pictures, and video to be used in popular Jeopardy game sets to add some FUN to training and testing
PROMO: FREE ARS SYSTEM RENTAL ($495 Value) *(professional/customization services additional)
Team Builders/Special Events:
VIP Casino Experiences: We have the best, most experienced, and interactive dealers in the business. Some of our dealers have dealt in Las Vegas, Atlantic City, and at Hollywood Casinos! We are the only casino event group that provides "hosts" and "PDM" (professional dealer managers) to ensure all guests are enjoying their casino experience with us!
PROMO: FREE FULL SERVICE CASINO TABLE RENTAL ($250 Value) *(with 3 paid rentals)
Video "Night at the Races": These are actual horse and dog races that have been run that can be bet on by guests. In a race program, you can "sell" race sponsorships on race programs and do 15-30 second commercial spots between races!
PROMO: FREE "NIGHT AT THE RACES" Package ($495 Value) *(with full service casino)
Green Screen Photo Station: We can research and integrate backgrounds and props that will match any theme! We can customize your group/department logo and event name and integrate onto all pictures. Every guest will be able to take home a special memento photo of their team builder/event experience!
PROMO: FREE THEME CUSTOMIZATION ($150 Value) *(with 3 hour rental)
MORE Entertainment: We also offer, DJ's, inflatables, festival games, themed mini golf, Murder Mystery dinners and MUCH MORE!
PROMO: FREE DJ/MC/SOUND PACKAGE ($450 Value) *(with any event billing over $1,500)
MORE than Entertainment: Looking for MORE custom event design? We also offer the following services:

Themed Décor
Famous Impersonators
Event Equipment
Capture the VIP experience: Capture the memories of your special event! We also offer the following services:

Photography/ Videography
Limo/Transportation Services